The success of a website is measured by how effectively it achieves its intended purpose, whether it's conveying a message, promoting a product, or providing a service. This is determined by the ability to convert visitors into customers, subscribers, or engaged users. A conversion is a significant action that occurs on your website, ranging from completing a purchase to filling out a form or navigating to a particular section. Through analytics, you can gather qualitative and quantitative data, and use custom-designed dashboards to identify critical roadblocks that hinder users from reaching their goals.
When these pinch points occur, before you revert any changes, research the why. And for that you should utilise a qualitative research method.
Types of Research
Before we drill down into Qualitative research, understanding UX research at a high level will be useful. The UX Research Techniques quadrant helps to demonstrate the different methods available.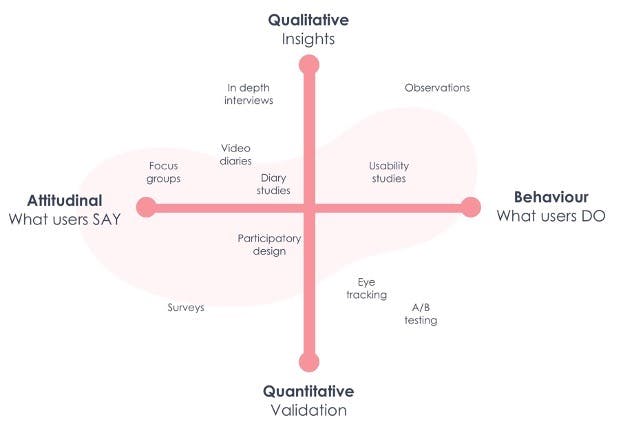 The differences between Qualitative vs Quantitative research:
Quantitative research: This answers the HOW MUCH or HOW MANY questions, it's conducted at scale with a large sample and is ideal for creating statistics and graphs. 
Qualitative research: This tells you the WHAT and WHY questions. It gives you an excellent view of users' mindsets and in contrast to Quantitative research, a smaller sample is required.  There are opportunities to move deeper with the questions, which will gather more rich information from the respondents.
There are two approaches to user research, Behavioural and Attitudinal
Behavioural enables you to see the users interacting with the product in an observational study
Attitudinal enables you to listen directly to what users say about your product
...pay attention to what users do, not what they say. The issue is that often what users say they think, feel or believe about a product vs how they actually behave.  Behavioural observation is key.
How can you observe behaviours on your website?
One platform we use to gather this data is Hotjar. The Hotjar platform provides a range of product insight tools that allow you to really understand the user experience. Spot problems, identify opportunities, and make the changes that boost your business. Their suite of tools include Recordings and Heatmaps to visualise user behaviour and understand why users take specific actions, Feedback and Surveys to learn more about your users and make informed decisions that improve your product and User recruitment and Interviews to discover insights, reduce assumptions, and build confidence.
Heatmaps visually represent where users click, move, and scroll on your site. Monitor page performance by seeing what they see, and what gets missed.
Recordings are live playbacks of users on your site. Watch full recordings of each visit, including the clicks, mouse movements, u-turns, and rage clicks. Identify issues on the fly and spot solutions in seconds.
Surveys bring voice-of-customer to your decision-making. Gathering evidence for a new product or feature? Use a targeted Survey to validate your ideas and better understand your users.
A real-time suggestion box on your site, Feedback lets users express frustration or delight about individual parts of your site, right down to the page, form, or image they're looking at.
Recruit the right users and get interviews scheduled with minimum fuss. Focus on spotting the key insights while Engage seamlessly hosts, records, and transcribes your calls.
What's the best method?
There's no single approach that is suited for all cases. But in all instances, creating a compelling story to share with stakeholders helps to demonstrate patterns.
My personal preference to create a compelling story is with the visual impact of Heatmaps & Recordings, paired with quantitative empirical data.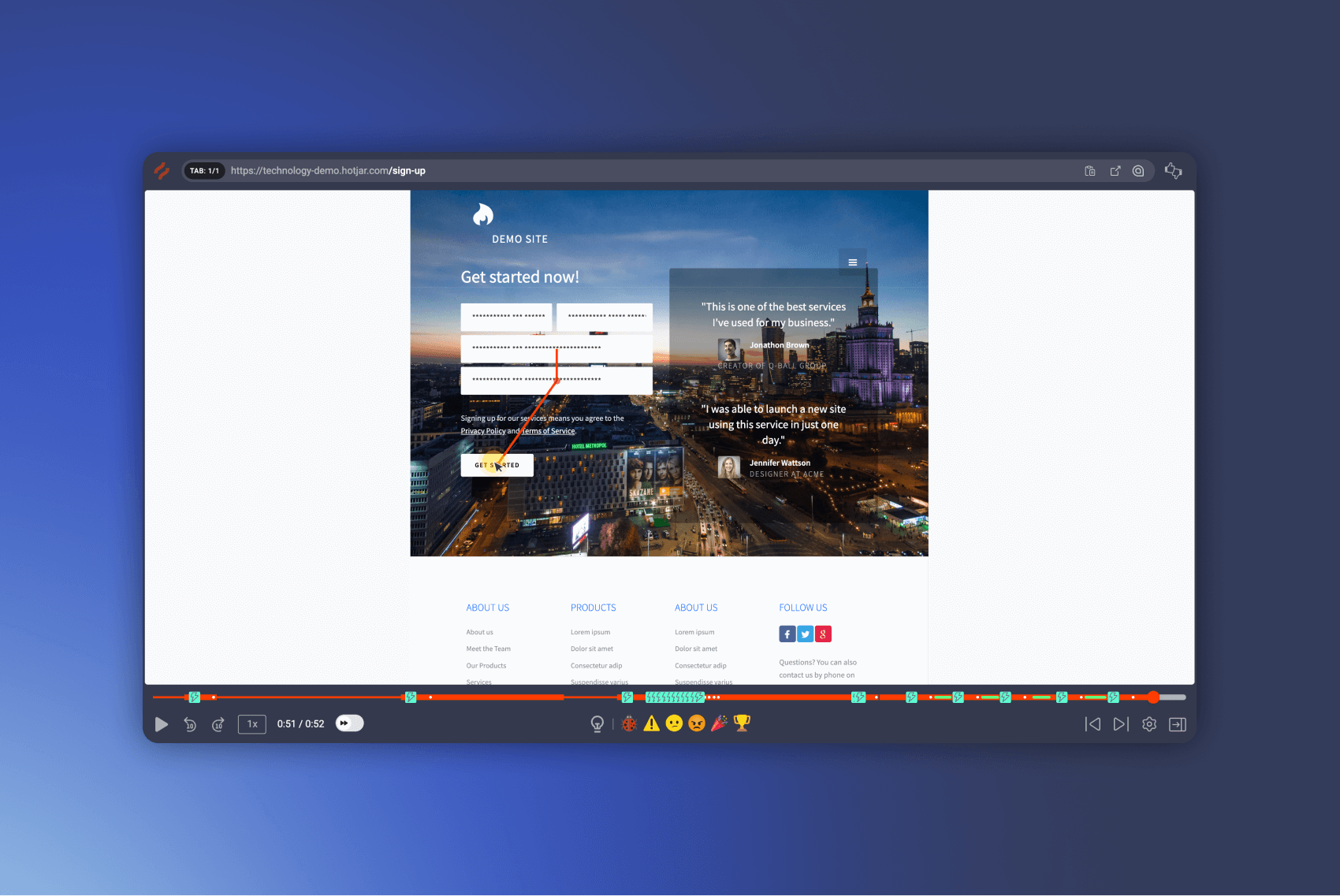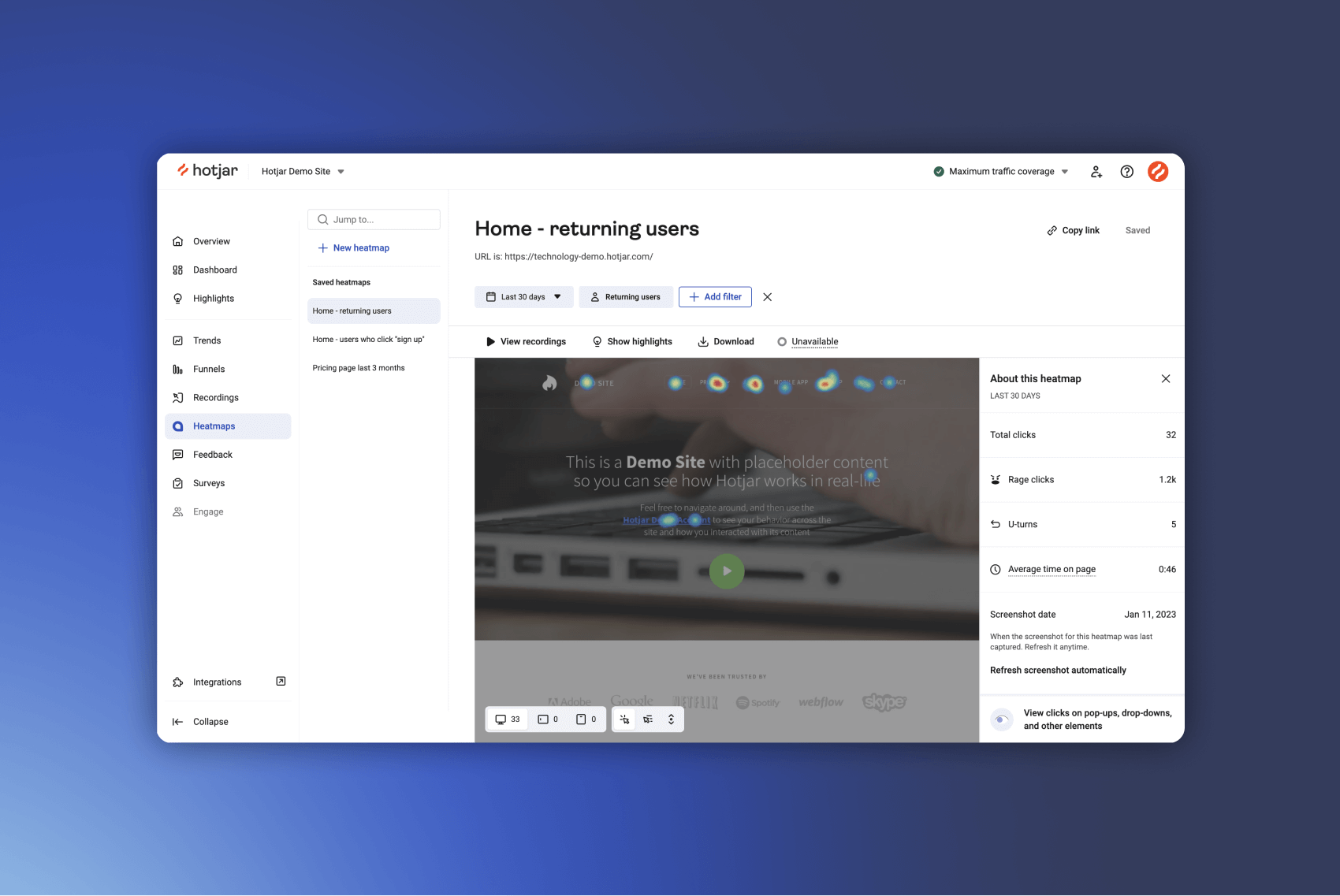 It's easy to get started, just sign up to Hotjar and install using GTM. If you aren't sure, and you need support getting it rolling, or just need guidance on UX research, please get in touch.
Other articles you may enjoy
We can help
As with everything in life, things pan out better when you work together. So if you are looking for a website support, updating a Shopify Theme, a fresh out of the box site or support with your Digital Strategy, you've come to the right place. We pride ourselves on our flexibility and honesty.
Why not get in touch?